FEATURES
Accelerate and secure the execution of your processes
Novy POM is a SaaS business solution for the intelligent automated processing of supplier invoices and customer orders: from acquisition and verification to the validation workflow. In a very intuitive way and thanks to a simplified administration, all the processing of invoices and orders is controlled from the platform. Novy POM has learning capabilities that allow it to automatically recognise the invoices of suppliers already referenced, advanced supplier invoice controls (duplicate detection, verification of supplier information, amounts, totals, VAT calculation, recognition and splitting of multi-invoice files) and identification of non-referenced suppliers to request a human verification.
User management
Repository management
Supplier portal
Multilingual portal
Extraction
Workflow
Learning
Export
With Novy POM, speed up and make your invoice management process more reliable
Novy POM answers the challenges of supplier invoice management:
Increase in the volume of supplier invoices and multiplication of supplier invoice reception channels
Lack of time to perform a rigorous verification
Manual data entry conducive to data entry errors, especially when the load is high
Pressure from the LME to reduce payment deadlines
Increase in fraud attempts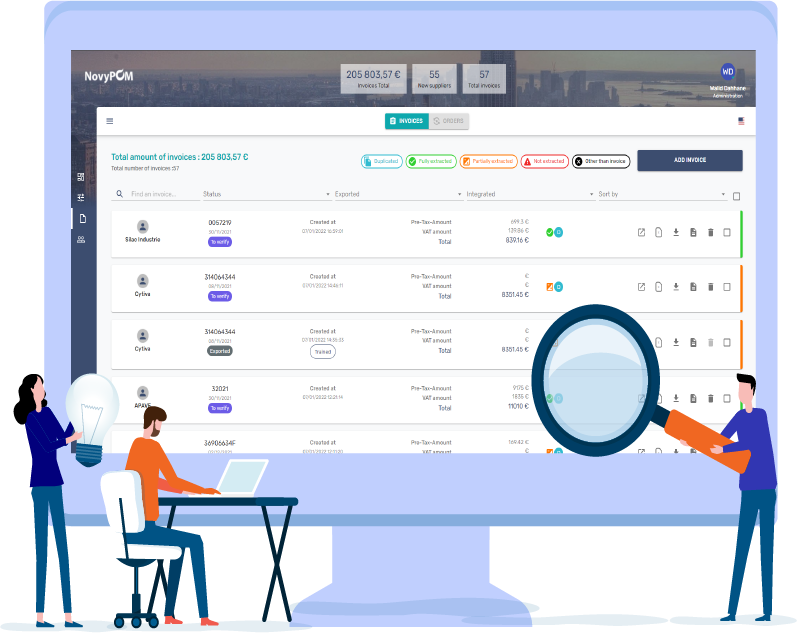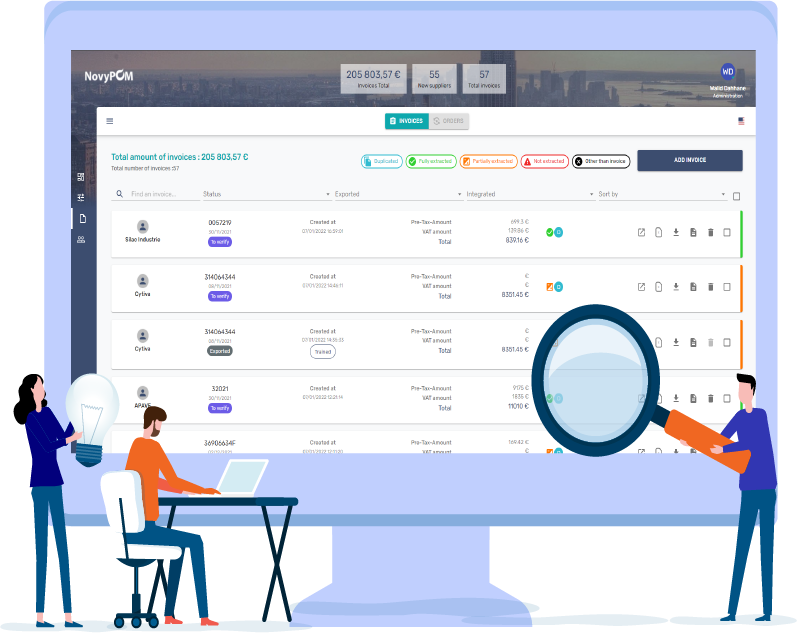 With the Novy POM solution, companies are protected against suspicious transactions, invoicing and data acquisition errors, double invoicing and obsolete supplier repositories.
An economic model

Based on the volume of invoices or purchase orders processed

An interface with the IS

Novy POM is calculated according to the specificities of your ERP

In Paas or On Premise mode

Novy POM is available on AWS and OVHCloud or can be installed directly on your servers

NLP, OCR, intelligent learning...

Novy POM relies on state-of-the-art RPA, OCR and NLP technologies
GET STARTED WITH NOVY POM
Evaluate the benefits and automation potential of your business processes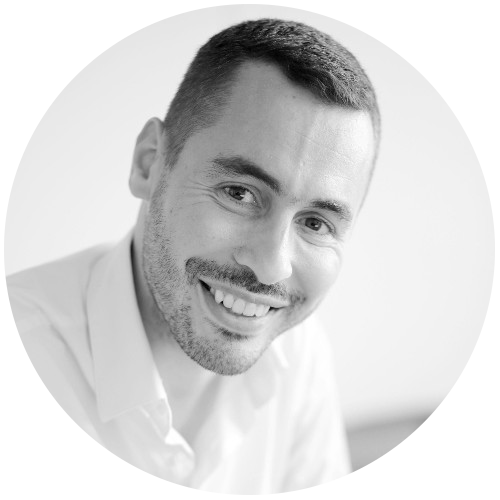 Digital players have the responsibility to ensure that digital innovations are accessible to all organizations, regardless of their size. This accessibility is measured in terms of cost and complexity of implementation. It is the choice that we have done at Novelis, since our creation, through platforms intended to democratize access to smart automation solutions. Novy POM is the perfect example.
Mehdi Nafe
CEO & Co-Founder
Discover smart automation with Novy POM
Would you like to know more about the potential our solution can bring you?